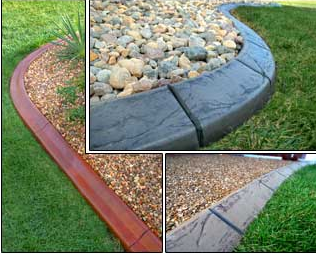 Concrete landscape curbing is the most durable and beautiful edging available in the industry today. This product has been around since the 1970's, so time has proven its effectiveness. We use additives in our curbs that help to maintain durability in the vast temperature ranges that we see in Las Vegas and the Southwest. By doing this, we eliminate most cracking that you see in other competitor products.

Concrete curbing will not decompose like wood, break like plastic edging or move like bricks. Our curbing has multiple color, shape and lighting options that add beauty and value to any property. Curbing reduces the time spent on edging and trimming.

This type of curbing is more economical and durable than traditional lawn edging. The design flexibility allows for flowing curves, tree rings, straight lines and of course custom layouts. Our curbing can be added to landscape with minimal disruption to existing planting beds.