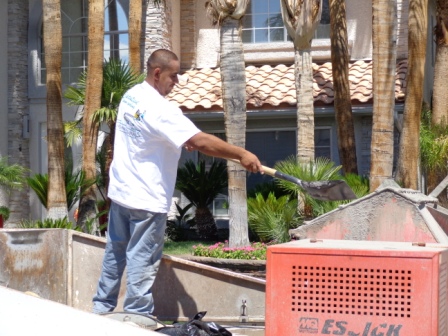 EC has been involved with a number of commercial and residential development projects throughout the Las Vegas Valley. Our company was founded with the belief that through honesty and hard work, excellence will be achieved. Many thanks to our staff and our faithful clients who keep coming back to us, as do their referrals.
EC is a family owned and operated business with over thirty years of local business success. Executive Curbing (EC) provides custom concrete landscape curbing, decorative edging, and borders. We have a number of affiliations with landscapers, builders, and patio installation companies. We do the finishing touches on all their work projects. We offer professional service for both residential and commercial properties throughout the Las Vegas Valley.
"We believe that by giving our customers the best quality product available, competitive pricing, reliability and honesty, will ensure continued success. Your word is our best advertising. Our goal has always been and will continue to be Complete Customer Satisfaction. We welcome your phone call and look forward to helping you design and beautify your landscape. Thank you for considering Executive Curbing".
EXECUTIVE CURBING AND CONCRETE, LLC
2712 Renwick Circle Las Vegas, NV 89117-0404
702-743-0010
executivecurbingandconcrete@gmail.com